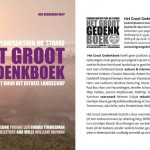 ATELIER PUUUR INCLUDED IN THE BOOK 'HET GROOT GEDENKBOEK 2016' [ THE BIG MEMORIAL BOOK ]
10-2016
We are pleased to announce that Atelier PUUUR is included in the publication 'Groot Gedenkboek 2016, with two special projects of us. Projects addressing future perspectives and current challenges for the funeralworld.
Among others the Islamic funeral pavilion [winner Golden Pyramid 2014 nomination Amsterdam Architecture Prize 2013] is discussed in an extensive interview about Islamic burial in the Netherlands.
The pavilion can be visited at the New Eastern Cemetery [De Nieuwe Ooster Begraafplaast]  in Amsterdam.
From the preface: HOW DO WE REMEMBER? NOTHING REMAINS AS IT IS "Netherlands remembers now completely different from a century ago. The ritual landscape from beeing born, die, commemorate and remember loved ones will be surprisingly different from us, say, a hundred years from now. […] Nothing remains what it is, in our minds, in our country, the familiar Dutch city decors and green countrysides evolve quickly. How? this is the subject of this book. A compact team of experts tackled this question..? how do we commemorate? They did research, visited sites, held interviews, made exhibitions with funeral professionals and with uninhibited students of spatial planning. This book portrayed in a kaleidoscopic way, the ritual landscape in the Netherlands and beyond. "
'HET GROOT GEDENKBOEK 2016' [THE BIG MEMORIAL BOOK]. Memorials then, now, soon. Search through the ritual landscape "has recently been released and can be ordered here:

Bewaren
Bewaren
Bewaren
Bewaren
Bewaren
Bewaren
Bewaren
Bewaren