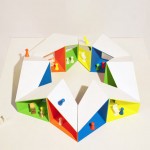 Doll's House WORLD [ POPPENHUIS' WERELD ]
11/2016
Designed for the project 'Doll's House': architects for children with mitochondrial disease.
An initiative to raise awareness for children with severe mitochondrial disease.
20 architects were asked to design a dollhouse and build one. These special dollhouses will be exhibited in the Netherlands from the end of March 2017 and will be auctioned mid-2017. There will also be a book released of this initiative and all dollhouses.
Gainings will benefit organisations like Energy4all and Stofwisselkracht, investigations of this disease will be supported by them.
The Atelier PUUUR contribution 'DOLL'S HOUSE WORLD' 'is more than just a plain dollhouse. It is a spatial game for kids where childeren will be challenged over and over, and stimulated in their imagination.
The elements can be combined in infinite variety of ways, and each time there will be created another of their fantasy worlds, a village, a street, a house, a tower, a train, a dragon, a snake, a scorpion …
Follow Doll's House project op facebook.com/d0llsh0use/
Model made by Studio KU+ www.studiokuplus.com

Bewaren
Bewaren
Bewaren
Bewaren
Bewaren
Bewaren
Bewaren
Bewaren
Bewaren